W.E. Stebbins High School
Class Of 1975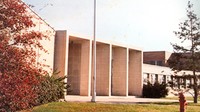 Music and Games
MUSIC N GAMES...
Some of The Music that moved us...and some Games people play...

...because it's never too late to have a great childhoood...
(and they say growing old is mandatory, but growing up is optional...)

The Parachute Game...(be forewarned...kinda addicting...) www.bassfiles.net/parachute.swf


James Taylor with Carole King at the piano (1971)
Originally from 1943, an amazing recording of it's day! ...

And the year was 1957...
Interesting side trip... here's the link to Buddy Holly's (Charles Hardin Holley) Lubbock High School Class of 1955.


Chubby Checker (1960)


Chubby Checker and the Wildcats (1993)!


Early Mick Jagger (1962!!)



The Beatles in New York! 1965!









Nothing can brighten a cloudy day like The Temptations...













The Dobbie Brothers...Listen to the Music, from The Midnight Special (1973)









Can it really be 25 years since we first "Walked on Sunshine?"...check it out





Bruce Springsteen and his timeless "Born to Run"...(1982)





and again, over 30 years later...

















Louie Louie...by the Kingsmen







Bill Haley...





Bob Seger..."Still the Same" (1978)...





Chuck Berry...Roll Over Beethoven (1972)





Drift Away...by Dobie Gray (1974)









Sweet Home Alabama by Lynyrd Skynyrd...









KISS, The Band, from The Midnight Special (1975)

!

xxx











Ted Nugent...uncensored...2009













Some 70's Hits you remember, some you want to forget!!!...























































For Fun...

The Color Test

...(click on link and see how quick your brain is...are you quicker than a teenager?) The Magic Gopher....

(this boggles the mind...)






Sudoku supplied by Strictly Sudoku.



http://www.strictlysudoku.com/



For those with other preferences of games...



Tic-Tac-Toe made by Neave Games