W.E. Stebbins High School
Class Of 1975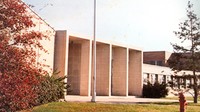 In Memory
Randy Clark
If you went to Overlook or Spinning HIlls you'll remember Randy as a funny guy and quick wit... and a talented artist... he drew the hot rod "mustang" for our freshman yearbook.
"Clark, Randy Allen (58) passed away unexpectedly, Friday Oct 2nd 2015. Born April 30th, 1957.

Randy was a good man, one of a kind. He would talk to everyone, trying to get a smile out of everyone he met. He was a storyteller…. Always had a story to tell, and he loved his country music. Randy didn't have much, but would give you the shirt off his back if you needed it. He was always there to help you if you needed something done or just someone to talk to. He loved all his family; His life was centered around his family, He lived a hard life, but he always tried to keep a smile on his face and enjoyed life the best way he could….his way."