W.E. Stebbins High School
Class Of 1975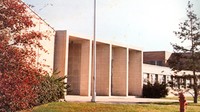 User Forums
Forum: Answers to Quizes [STICKY]

| | |
| --- | --- |
| Created on: 08/05/09 02:27 AM | Views: 6244 Replies: 0 |

Jeff Moles




Joined: 07/27/09
Posts: 6

View Profile
Stebbins Trivia Answers
Posted Tuesday, August 4, 2009 09:27 PM


If you haven't taken the Stebbins Trivia Quiz yet do that before you read all the answers below. It will be more fun and it will make more sense.

1. Who was Stebbins' principal when you were a sophomore?

2. Just who the heck is Walter E Stebbins anyway?

A> He was the superintendent of schools for Mad River Township and passed away during its first year.

3. Who was our Mascot for 74-75?

A> Terri McCune dressed in wild Indian garb. Terri Cloth never attended our school.

4. Stebbins wasn't the first name for our school. What was the original name?

A> Oddly enough it was called Mad River High School that first year, WE Stebbins died and it was renamed the second year for him.

5. What was the first school year for the new high school in Mad River?

6. The Stebbins Indians almost had another symbol, do you know what came in second place to the Indians?

A> Stebbins Buckeyes. Mr. Edumundson a graduate of Ohio State and a die hard fan of the Buckeyes really pushed for the Buckeyes. As a side note: The Stebbins' colors red and gray were almost the scarlet and gray. Our Alma Mater (Oh come, lets sing our high school's praise) is actually the same tune as Ohio State's Alma Mater. Technically speaking our school Fight Song is really incorrect. "Drive, drive on down the field, men of scarlet and gray……"

7. Who was the star quarterback for the 74-75 football season?

A> Jay Lord … (Jay North was the original TV Dennis the Menace)

8. What was the musical for the 1974-75 school year?

A> Fiddler on the Roof. (Jeff Moles was Tevye, Thom Whelan was Lazar Wolf). "Forum" was the musical in 1972-73 and "Dolls" was the musical in 1973-74. Stebbins did "Sound of Music" in the 1969-1970 season.)

9. Who was the principal when you were a senior?

A> Alex Dinino. Dinino was the asst principal at Spinning Hills in our 7th grade and Bornhorst was the principal. Bornhorst went on to become the Superintendent and Dinino eventually filled that same role. For those who don't know, Thomas Goheen was our asst principal under Dinino and died a few years ago. For an asst principal (who is supposed to be in the "bad guy" role) he was one of the nicest persons you could meet. The reference to Mr. Hubbs is something for Overlook Elementary alumni. He was a sixth grade teacher who became Overlook principal after we went to Spinning.

10. Who was the Drum Major for the 1974-75 season

?

A> Tom Sefton. If you ever saw Tom's high kicking musical leadership you would remember it. I always enjoyed going to the games. All the other Tom's are other students, except for Selleck the actor.

11. Who was our Homecoming Queen?

12. Who is Stebbins' principal today?

A> Mr. Ron Flohre. Ron is a graduate from Stebbins' 1977. Dinino retired from Superintendent and Ron Young retired from teaching. Don Petry of course is class of 75. Hubbs resurfaces again.

13. Who was the Queen of the Wise Teen's Dance for 74-75?

A> Susie Leverette. Kim Castle was the queen from 73-74. The Moake twins made other marks on Stebbins' history.

14. What was our theme for the Prom?

A> Knights in White Satin

15. We played the Centerville Elks for Homecoming, did we win?

16. Who was our Prom Queen?

A> Debbie Moake was Queen and Perry Williams was King.

17. We had a radio station. What were the call letters?

A> WSMR (stood for Stebbins Mad River)

18. Who was our valedictorian?

A> Richard Wells

19. For the first time in 25 years, this did NOT happen at the 1975 graduation.

A> The song, The Lord's Prayer was not allowed to be sung.

20. Who was our Salutatorian?

A> Michael Johnson

21. Who led the Pledge of Allegiance at our graduation?

A> Glenn Coffey

22. Who led the invocation at our graduation?

A> Margo Cotterman

23. Who were the senior officers on the Student Senate?

A> Roger McCoy, Doug Loyd, Vanessa Back

24. Who were the senior class representatives?

A> Perry Williams, Kim Moake, Debbie Moake, Angie Taulbee

25. Who gave the final benediction at our graduation?

A> Jeff Moles. Jeff was originally supposed to sing The Lord's Prayer, but was told a few days before the graduation that "they" decided the song would no longer be used at graduation. True Story.

26. No cheating....